Lighting can make or break the look and feel of a worship service. Great lighting isn't just gorgeous to look at, it's also a critical tool to communicate your message.
That's why it's so important to select the right lighting company.
Jericho AV lighting can coax guests into the right sort of mindset for your event's purpose, whether you want them to open their wallets, or to immerse them in your worship experience. Great event lighting will help reinforce these goals perhaps more than any other facet of an event's production – often in the most efficient way, with the biggest impact and the smallest footprint for the dollar spent.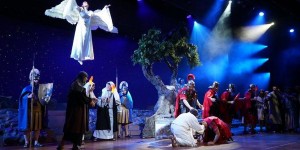 For an worship service to be successful, everything from the lighting to the music must be in place and function well. The last thing you want is to deal with equipment failure, bad lighting, and unsafe installations. Inexperienced event production companies often cause problems and compromise the success of events.  With Jericho AV, you won't have to worry about that. As a part of our worship production lighting services we'll make sure your event runs smoothly and your lighting works well.
Our experience keeps us well prepared to deliver jobs safely, on time, and on budget – every time. And we've been told that the company's culture of kindness, respect, and accessibility – and our deep commitment to ethical business practices –sets us apart from other AV companies, and provides a welcome support system for our clients during what can be a high-stress planning and production process.
Concept Creation, Consultation

Equipment Supply

Lighting Design, Plots, Renderings

Pre-Production and Prep